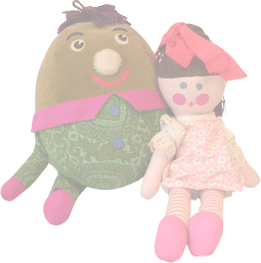 Nostalgia
For over forty five years I have been in the public eye, appearing on stage, film and television. But the one thing that most people know me for is taking them through the Square, Round and Arched windows with Humpty, Jemima, Big & Little Ted and Poppy (she took over from Hamble!). Yes, Playschool is the programme I am best known for and I loved every moment of appearing on that wonderful show. I even got the opportunity to do Playschool for a week in Norway.
I loved performing in Play School and of course Play Away (remember Reggae Rita!) But how did it all start? You may ask. Well, I used to watch kids programmes during the day when I worked in the theatre and wished I could do them because it all looked so much fun. So I auditioned in 1976 and got the job as a presenter and the rest is history.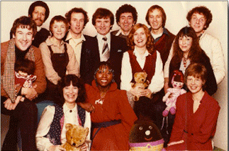 I loved my time on Playschool and Playaway, I got paid to have fun and when I meet the people who used to watch me as tiny tots (I call them my Playschool babies) they tell me they had fun too! I can be making a speech to a group of smart business people, students or anyone and I just have to say one of the catch phrases like "through the square window" or refer to Humpty and it is guaranteed to bring the house down. I adored Playschool, it still is very much part of my life and always will be. I have so many wonderful memories of presenting the programme. To me every show was like the first for me. I just loved the dancing, storytelling and the adventure it gave children to use their imagination.
It allowed me to also make history because I was first woman to be allowed to appear fully pregnant on television. I was allowed to do the show up to about 3 weeks before I had my son Aston. In fact the idea of me appearing on television pregnant made the headlines on CBS News in America!

Playaway was a brilliant show to do, too. You got paid to dress up and have fun. I played so many characters from Cleopatra to an old witch. I played Queens, tramps from Wonder woman to Sherlock Holmes. The jokes were corny but every child's favourite. Working with the likes of Brian Cant, Tony Robinson, Anita Dobson, Griff Rhys-Jones was always a laugh – What a lucky girl I was!
Black Joy
I starred in Black Joy in 1977, it was my first film and was the British entry that year for the Cannes Film Festival. I starred with Norman Beaton and Paul Medford who played my 10 year old son. It was a great film a story about an innocent guy coming to a big city and learn how to survive the hard way. It was a great film which recently came out on DVD. It was directed by Anthony Simmonds and produced by Martin Campbell who now directs Bond films. Going to Cannes was quite an experience it was like going to a different world practically everyone you met was a movie star. I stayed at the Carlton Hotel and as I travelling up to my room in the lift with me was Gregory Peck who was tall and more handsome than on the screen. It has just been re-released in wide screen.

The first night I was there and walked down the red carpet was like being in a movie itself. I remember the photographers wanting to take pictures of me because of my beaded hairstyle. One of them grabbed me and flung me between to people. I said, "Get off me" and he said in broken English " You take picture with Carlo Ponti and Sophia Loren. I said "I don't care who they are you get off my dress". Later the producers of the film told me that's why I was in Cannes- to get photographed!

West End Shows
I've done some hit West End plays and musicals. The one I remember fondly is Black Mikado, my dancing partner was that wonderful British actor and gentleman, the late Michael Denison. The music and dancing was sensational, it was a show way ahead of it's time.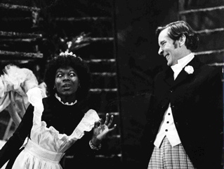 The only stage comedy I've done was the Husband-in-Law a Fado farce with Kenneth Williams, Peggy Mount and Bryan Pringle. Kenneth and I became good chums while we toured the regions before it came to London. It came into the West End during the hottest summer in Britain in 1976 and I sweated buckets under my Edwardian costume. Kenneth showed me the secret of how to get an audience to clap… it always works!
I opened a clothes shop in 1977 and Kenneth became a frequent visitor and often dropped in for a cup of tea, which he mentioned in his diaries.
I have worked with many directors but one of my favourite is Richard Eyre. He directed me in the BBC play 'Waterloo Sunset' which starred the late Queenie Watts. It was Robbie Coltrane's first play and we all had a wonderful time working with Richard. He got me to play my part at least five different ways before deciding which version he wanted. He knew how to get the best out of you!
Women of the Year Lunch & Assembly

I was the Chairman of Women of the Year Lunch and Assembly for five years. In 2005 it had its 50th anniversary and was started by the great Lady Lothian, a woman of vision, in the days when women's voices were never heard. She was my mentor and together we broke through many glass ceilings. Lady Lothian touched many hearts and her legacy will live on forever.
Being Chairman meant that each year I had to entertain five hundred of the top women in the country, as well as Queens, Prime Ministers, politicians, top business women, singers, movie and television stars. It was hard work but I learnt so much about teamwork, commitment, empathy and perseverance – all the qualities you need to make a difference!